Opportunities that have changed my life
Susana Marin Arango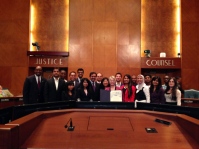 Houston Community College has partnered with the Community College Consortium since 2012 to host CCI students from Colombia, Pakistan, Turkey, Indonesia, Egypt, South Africa, Ghana, Brazil, India, Costa Rica, Cameroon and Bangladesh. On April 22nd, 2014, City Council Member Green and the Houston Mayor Annise Parker presented a proclamation to recognize the Community College Consortium Initiative Program, a memorable day for all of us.
I had the opportunity to intern at the Colombia Texas Chamber of Commerce and it has been a wonderful opportunity to gain work experience and to know the economic growth of Colombia in this country especially in the state of Texas. Colombia's economy has been growing steadily and much faster than the Latin American average, and the nation is quickly becoming one of the world's leading emerging economies. In fact, some economists have included it in a new class of growing economies – within the CIVETS category, which includes Colombia, Indonesia, Vietnam, Egypt, Turkey and South Africa, which are characterized by their dynamism and high prospects for growth in the coming decades. I was enrolled in the course 'How to Start a Business in Colombia' which focused on international trade and business in Colombia offered at the Chamber of Commerce.
I want to thank the Colombia Texas Chamber of Commerce for giving me the opportunity to work with them and creating my internship, because they allowed me to develop and achieve one of the goals required by my program and to be more professionally and professionally prepared for the future ahead.