NOVA Hispanic American Chamber of Commerce - Event Information
Event Name:
2020 Diversity and Inclusion Career Event - Virtual
Event Type(s):
NOVAHCC Event

Description: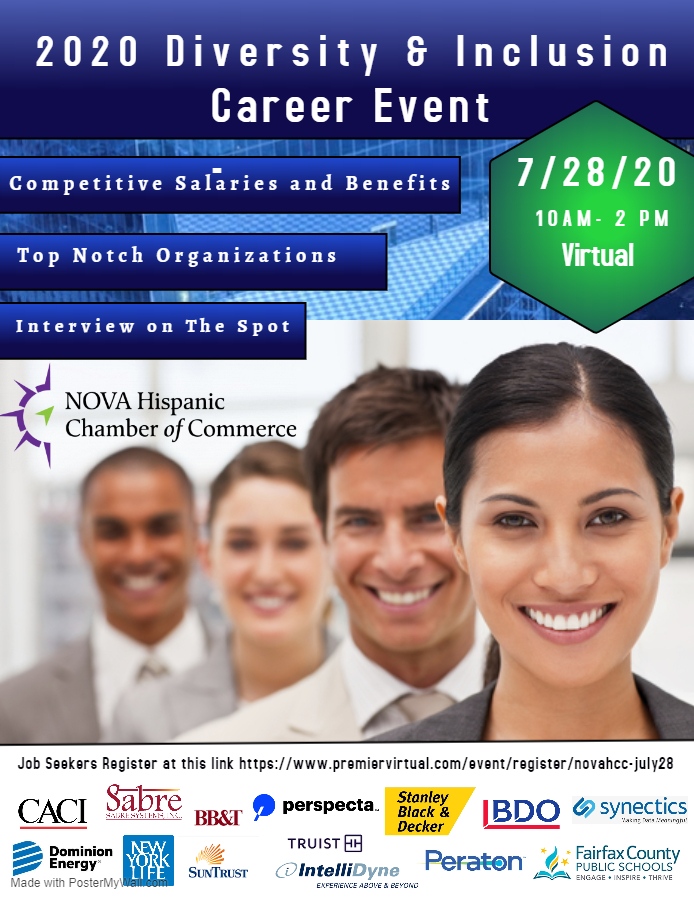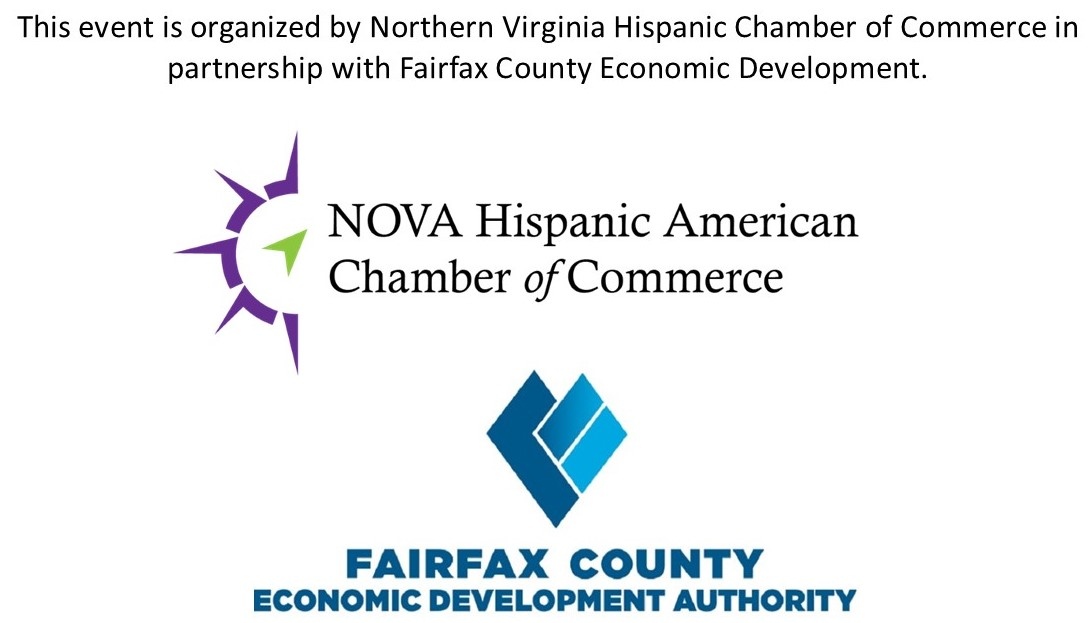 Event Time:
10:00 AM to 2 PM EST
Location:
Virtual Event
UNITED STATES

Details:
2020 Diversity and Inclusion Career Event (Virtual) offers you the opportunity to connect with employers and have a live interactive video interview with Recruiters and Hiring Managers.
About this Event
EMPLOYERS:
As we celebrate diversity and inclusion all year round, we welcome and invite employers from DC, Maryland and Virginia to join us at the 2020 Diversity and Inclusion Career Event to interact with job seekers. Each employer will receive a virtual booth with your logos, branding and social media handlers and more. This virtual event attracts job seekers not only regional, but nationwide in a unique opportunity to meet with candidates who possess a multicultural background, and have the skills and experience you are looking for. We are expecting participation of hundreds of applicants, as applicants don't need to travel to be interviewed. Due to high participation, we recommend a minimum of two recruiters per company.

*EMPLOYERS or ORGANIZATIONS INTERESTED IN SPONSORING OR EXHIBITING AT THE 2020 DIVERSITY AND INCLUSION CAREER EVENT, email Susana Marino at smarino@novahispanicchamber.com or call 703-839-8140
JOB SEEKERS (Registration for Job Seekers Opens On July 1st)
THIS VIRTUAL EVENT IS IS FREE of COST FOR ALL JOB SEEKERS The 2020 Diversity and Inclusion Career Event offers the opportunity to connect with employers from the Washington Metro region without having to leave home. Tired of sending your resume over the web and not receiving any responses back? By attending our virtual interview sessions, you will be able to live chat or have a face to face video conference directly with hiring managers, get instant feedback on your resume, and GET HIRED ON THE SPOT BENEFIT PACKAGES OFFERED BY EMPLOYERS: Salaried Positions Base Salary + Positions, Bonuses Commission, Life Insurance, Paid Holidays, Paid Company Training, Management Training, Rapid Career Advancement.
INDUSTRIES THAT HIRE AT OUR CAREER EVENT include Accounting, Advertising, Aerospace, Agriculture & Agribusiness, Transportation, Apparel & Accessories, Banking, Biotechnology, Chemical, Communications, Computer, Construction, Consulting, Consumer Products, Education, Electronics, Employment, Energy, Entertainment & Recreation, Fashion, Financial Services, Fine Arts, Food & Beverage, Green Technology, Government, Government Contracting, Health, Information, Information Technology, Insurance, Legal Services, Manufacturing, Media & Broadcasting, Medical Devices & Supplies, Pharmaceutical, Public Administration, Public Relations, Publishing, Real Estate, Retail, Service, Sports, Technology, Telecommunications, Tourism, Transportation, Travel, Utilities, Video Game, Web Services and more.