Events in the month of May 2020
Click on an event to learn more or scroll down to view all
Thursday, May 7, 2020
Please join us for our Chamber Lunch and Learn Series. Add a tool each month to your "Business Thriving Tool Kit". Lunch is included.
Building Business Resilience in the Face of Disaster
Presented by Jane Mannon, Coalition for the Upper South Platte
Community efforts to increase wildfire resilience often focus on homeowner action. But what about our business community? The economic engines of our towns and cities can be particularly vulnerable to wildland fire if no preparedness work has occurred. At Fire Adapted Communities Net, efforts to increase business resilience have been ongoing since the network began! Network members, partners and others are helping to prepare the business community for wildland fire.
more info...
---
Tuesday, May 19, 2020

LIMIT OF 100 ATTENDEES
Chamber Business After Hours is Teller County's largest networking event. All Greater Woodland Park Chamber of Commerce members are encouraged to attend via our Zoom platform. Join friends online and take the opportunity to network and catch up with your friends, clients and customers plus meet new members online. Special discount coupon will be provided to those who attend ONLINE!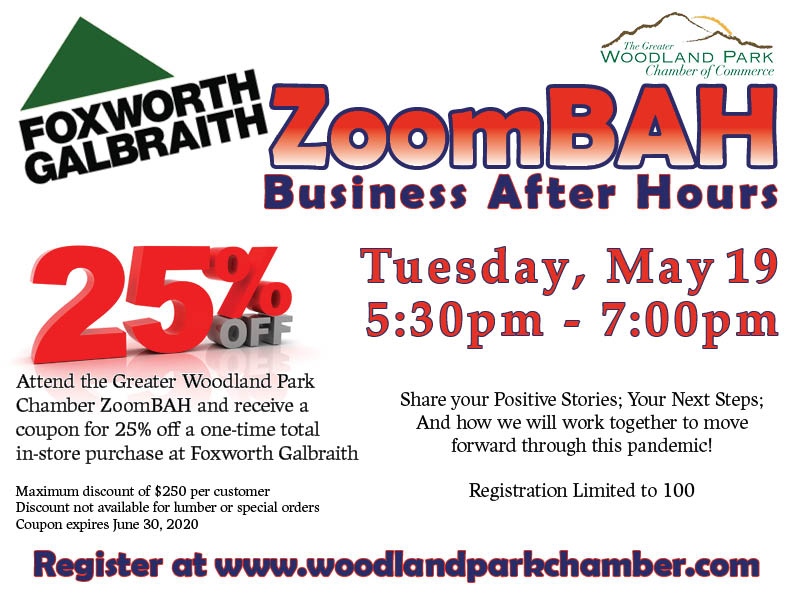 more info...
---