Chamber News
Farmers' Appreciation Dinner Sponsorship Opportunities Available!

'Celebrating Centennial Farms of Worth County'
We are now accepting sponsorships for the 2013 Farmer's Appreciation Dinner on November 21, 2013. If you would like to be a sponsor, and be mentioned in the Peanut Festival Magazine as well as the online ad on Worthit2u.net, the deadline is September 1, 2013.
---
NEW Community Magazine in the making!
Your chamber is the primary source for individuals looking for information on business, education, health care, development and the drivers of our economy. One of the greatest vehicles for communicating this important information is through one of the chamber's most popular publications, the Sylvester - Worth County Chamber Magazine.

This full color glossy magazine is used to promote chamber partner businesses to current residents, newcomers, other businesses and visitors. Along with the contact listings of all our partners, the magazine also has vital community, education and quality of life information. Published every two years, it includes an alphabetical member directory that lists members
by category.

We will also be printing an updated map of the county in conjunction with the magazine. These magazines and maps will be distributed through the chamber office, visitor centers, other surrounding chambers, newcomers to the community, various businesses and handed out at festivals and events.

We have once again partnered with a local business for this project. You should be hearing from Kellie Parten of The Sylvester Local News very soon. Or you can contact her at 229-776-7713 or by email: kellie@thesylvesterlocal.com.

Space is limited, so please contact Kellie soon to take advantage of this low cost, high exposure advertising opportunity!
---
Exclusive Wellness Program for our Business Members!
---
Take Advantage of Member Benefits!
We want to offer our community LOCAL reasons to Stop and Shop in our own community. If you haven't already taken advantage of the many benefits our Chamber Web Page has to offer you now is the time to do so. Log in and browse the back end of our web page and create your own "Mini" Web page and create your own coupons! Let's show off why we are definitely "WORTH" the Trip!
Community Fundraisers
DRIVE ONE FOR YOUR COMMUNITY
Saturday, Aug 3rd from 9:00 - 4:00

Sunbelt Ford will hold their second "Drive One for your Community" in the PIGGLY WIGGLY parking lot located at 631 E. Franklin Street. Sunbelt Ford will contribute $20.00 for each person 18 or older who test drives a vehicle. Limit one driver per household. Come out and support your local Chamber Member nonprofit organizations.

The last day for non-profit Chamber Members to register for this event is Wednesday, July 31, 2013. For more information, contact the Chamber at 229-776-7718
---
As a fundraiser for the Relay for Life of Worth County, ConAgra Foods, Inc./Peter Pan Peanut Butter has compiled a cookbook "Cooking to Make a Difference" are on sale now! Cookbooks are $10 each and all proceeds go to the American Cancer Society. The printing costs of the cookbook were sponsored by ConAgra Foods/Peter Pan.

Now available: You may purchase your cookbook at the Sylvester-Worth Chamber of Commerce.

Thank you for your support in the fight for a cure.

Worth County School News
The Worth County Schools Partners in Education
WCSPIE is a program of the Worth County School System and the Sylvester - Worth County Chamber of Commerce. The relationships created through this program foster a mutually beneficial support system designed to meet the needs of the school through the resources of our community partners. Please consider becoming a Partner in Education today!! For more information call Heather Greene at 229-776-8600 or the Sylvester Worth County Chamber of Commerce at 229-776-7718. Click for More Information and Application
Governance News
---
Looking for the inside scoop on General Assembly '13? Click for
Jim Finch's latest update from U
nder the Gold Dome.
The Georgia Department of Economic Development budget presentation has also been uploaded to our site. Click here to view it.
---
DISCLAIMER: THE SYLVESTER- WORTH COUNTY CHAMBER OF COMMERCE DOES NOT ADVOCATE OR ENDORSE ANY CANDIDATE OR LEGISLATIVE ISSUE. The Sylvester-Worth County Chamber of Commerce feels it is important TO GET THE FACTS on legislative issues and candidates. The information in this box is provided to inform the public on forums available for informational purposes only.
Festival & Events News
---
Georgia Peanut Festival
October 19, 2013!
Click for
More Information and Application Packets
---
Stop & Shop!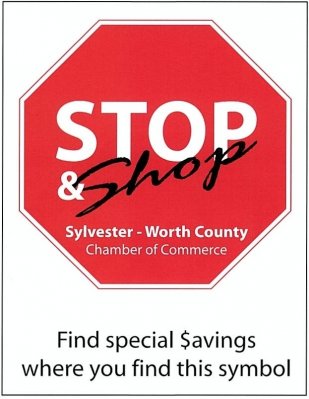 Worth County is a Work Ready Community! Ask your Chamber of Commerce how you can become Work Ready, too!

If you have upcoming events that you would like to share, please contact the Chamber and let us help to spread the word. A strong Chamber is the sign of a strong community. Ask your Chamber of Commerce how you can become A PART OF THE CAN DO CREW! We are dedicated to keeping you updated on events in our Community and hope that we will see you there supporting your Community!

See all the most recent Stop and Shop specials on our BLOG!

Regional News
Region 10's Southwest Georgia Business and Employer Summit
Sponsored by the Georgia Employer Committee and the Georgia Department of Labor is scheduled for Thursday, July 25th at the Mitchell EMC Auditorium, 475 Cairo Road, Camilla, GA from 8:30 am-3:00 pm.

Who Should Attend?

This summit is designed to meet the needs of managers, human resource professionals, business owners, and supervisors who want to operate effectively with the legal climate that is affecting their workplace in 2013. Being prepared for the change that will impact your business is critical.

Summit topics will cover labor law updates; unemployment insurance; sustainable healthcare innovations; and harassment, discrimination & retaliation. Speakers for the summit are: Commissioner of Labor, Mark Butler; Cherry Rizer, GDOL Employment & Training Specialist; Jason Willcox, Partner, Moore, Clark, DuVall & Rodgers, PC; and Don Betts, Georgia Tech.

This program has been approved for 6.0 recertification credits through HRCI. Registration for the summit is $60 per person and $50 for each additional person from the same company. A continental breakfast and lunch will be provided.
---