Reviews
"Dear Suzie, I wanted you to know how great Merle & I think your painting is & how it improved our home's appearance. You are neat & kept the house clean & neat during the week you were here. You do a fantastic job of painting. You were on time & everything looks
wonderful
! If you ever need a reference, have your clients call us!"
~ Hallye B.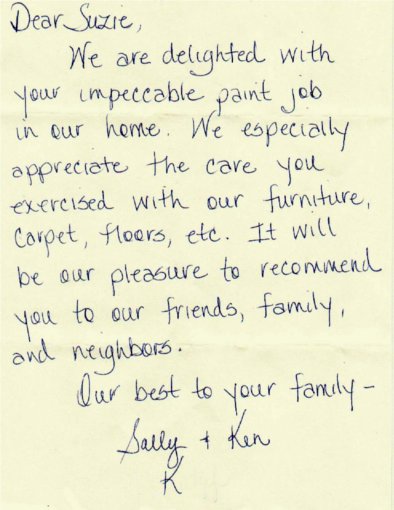 "Dear Suzie, We are delighted with your impeccable paint job in our home. We especially appreciate the care you exercised with our furniture, carpet, floors, etc. It will be our pleasure to recommend you to our friends, family and neighbors. Our best to your family."
~Sally & Ken K.
"We wanted to thank you both for the wonderful work in our room. We were especially pleased with your neatness and conscientious details . We will always be glad to recommend your work to the highest degree! "
~ Mike & Mary Anne D.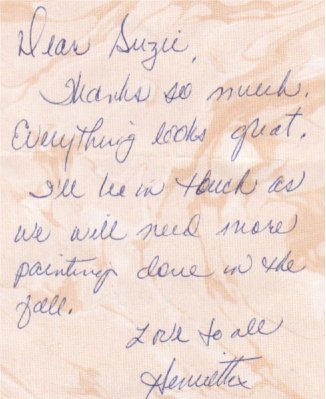 "Dear Suzie, Thanks so much. Everything looks great. I'll be in touch as we will need more painting done in the fall. Love to all!"
~ Henrietta S.